200 系列
MAC 200系列是一种直接电磁阀操作的三通提升阀。这种独特的系列也可用于危险位置应用(I/Div B、C和D类–II/Div E、F和G类)。它还具有短行程电磁阀、平衡提升阀和强大的回位弹簧。这些特性转化为高换档力,快速一致的响应时间和长寿命。有关认证(如UL、CSA、RoHS和CE)的信息,请访问我们网站上的获取支持页面.
最高流量Cv (Max):  0.50
接口尺寸:  1/8″-1/4″
Configurations:  Inline – Hazardous Location – Manifold:  Non Plug-in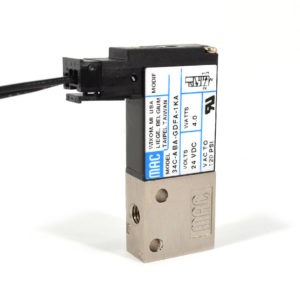 Quickview
Small 3-Way Valves
The Mac 34 series is a direct solenoid operated 3-way - 10mm - poppet valve.  A direct operated 3-way of this size with such high flow is unique to MAC due to patented design innovations.  It features an oval armature in the solenoid, a balanced poppet and powerful return spring.  These features translate into high shifting forces, fast consistent response times, high flow in a small package and long life.  For information regarding certifications (such as UL, CSA, RoHS, and CE) please visit the
Get Support
pages on our website.
Application, Installation and Service Precautions
Cv (Max):  0.12
Port Sizes:  M5-10-32
Configurations:  Manifold:  Plug-in/Non Plug-in